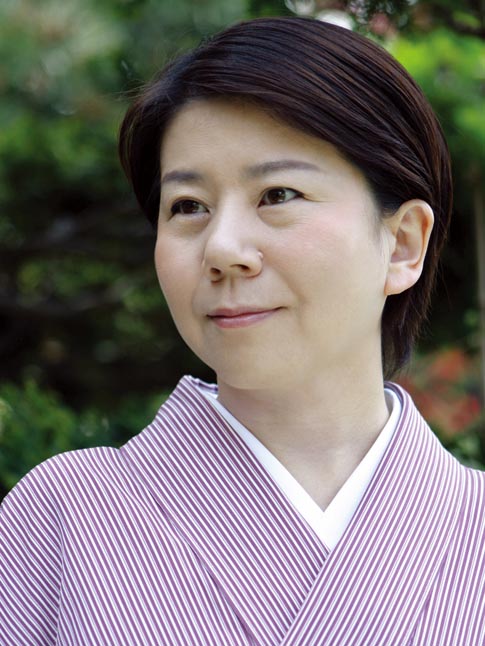 Randy Taguchi
"With me, until I'm on the verge of starting to write a story, I have nothing. It's a blank slate. All white. But when I sit and start to write down the first line, the story starts writing itself".
After working as a copywriter and editor at a Tokyo agency for a decade, Randy Taguchi started, in 1996, publishing her writing on the Internet in a weekly column. She quickly built up an impressive, loyal and regular readership of around 100,000. Her first novel Konsento (Outlet), published in June 2000, established her reputation and career as an author.

The book, a sexually charged psychological detective novel, is loosely based on the tragic death of her brother who had been diagnosed as a hikikomori, a Japanese term used to describe individuals suffering with an acute form of social withdrawal. Such individuals will refuse to leave their homes or bedrooms for extended periods; and her brother tragically died from starvation. The novel, published by Shinchosha Bunko, sold more than 800,000 copies. Outlet and its sequel, Antenna, have both been successfully adapted and released as films. Taguchi has published sixteen novels as well as dozens of essays and short stories.
"Indeed, stateside pop fiction magnates could take a lesson or five from writers like Randy Taguchi,"

Bookslut.
Randy (Keiko) Taguchi was born in 1959 in Tokyo. She has built her reputation and career through the Internet and an astute understanding of and interest in popular Japanese culture picking up on and writing about emerging cultural trends, fads and controversial issues that resonate with readers in print and online.


Her breakthrough debut novel published in 2000, Konsento (Outlet), is loosely based on the tragic story of her brother who starved to death after locking himself away in his room for almost a decade.


Her name has become synonymous with hikikomori, the term coined to describe the condition. 

The multi-award winning novelist and filmmaker Ryu Murakami, often described as the enfant terrible of Japanese literature who is best known for his novels Coin Locker Babies, In the Miso Soup and Almost Transparent Blue described Outlet as the best thing he had read in a decade.


The book was described as "sexually charged and intriguing. New age mystery that is smart and well paced," by The Library Journal, the respected American industry journal, founded in 1876.

The literal meaning of hikikomori is: 'pulling inwards, being confined,' and is a recognised technical medical term used by Japan's Ministry of Health, Labor, and Welfare to describe individuals who refuse to leave their homes and rooms, and isolate themselves from society and social interaction for periods exceeding six months.

There are apparently an estimated 700,000 individuals in Japan who suffer from the syndrome; and the average age of sufferers is 31. 

The novel Outlet is part of a trilogy whose publication was quickly followed by Antenna (2000) and Mosaic (2001). It sold hundreds of thousands of copies in Japan and includes a lot of sex, but its unusual story means that it probably falls outside the traditional definition of a bonkbuster, despite its impact and female authorship.
Taguchi often draws on personal experience and her own family troubles in her books

Taguchi has been nominated on several occasions for the Naoki Prize and won the inaugural Chuo Koron Literary Award in 2001 for her novel Dekireba mukatsukazuni ikitai (If Possible, I'd Like to Live without Getting Angry), in which she includes a frank account of her own troubled family. Other novels written by her include Fujisan (2004) and Marginal (2011).

She is still prolific and continues to write fiction and non-fiction, essays, travel logs and a blog. She has also recently started performing in plays and composing music. She is also trying to encourage the next generation of Japanese writers by regularly holding creative writing seminars in Tokyo.

She is on record as saying her favorite book is Kaleidoscope by the American writer Ray Bradbury (1920-2012) and that other authors she admires and have influenced her include Herman Hesse, Gabriel Garcia Marquez, and Haruki Murakami. In addition to essay collections, a diary and a book about her travels in Vietnam, Taguchi has also published several collections of short stories.

Her works have been published in English, Italian, Chinese and Romanian. Outlet was published in English by Vertical in 2003 and Fujisan by AmazonCrossing in 2012.
Some of the Japanese media have tried to turn Taguchi, and her difficult upbringing and subsequent career, into a high profile example of dysfunctional Japanese families and the post-war ills of modern Japanese society.


When Taguchi was 17, her mother walked out on her alcoholic abusive father, who apparently never managed to settle down when the Second World War ended before he and his Kamikaze unit could be deployed to fulfill the suicide missions they were being trained for. The strong willed and fiercely independent Taguchi decided not to live with her mother in Ibaraki, when her parents split up, but to forge her own independent life by moving to Tokyo after graduating from high school.


She started using the Internet as a creative outlet after becoming a mother herself using it to regain her independent identity using the name Randy, not her real name Keiko, to reassert her individuality and personality. Her novel Papillon, published in 2008, drew on her experience looking after her father in the final stages of his life. He died in 2008.
Dekireba mukatsukazuni ikitai

(

I'd Like to Live Without Getting Irritated If Possible

), 2000

Fujinkoron Literary Prize

Inochi no eeru hatsume okaasan kara musume tachi he

(

The Ale of Life: From Mother to Daughter

), 2015

Bukkyo no kosumorojii wo sagashite fukakushite atarashii bukkyo no ima taguchi randi taiwashuu

(

A Deep Look at the Cosmology of New Buddhism: A Dialogue Collection of Randi Taguchi

), 2014

Sankaara kono yo no dampen wo taguriyosete

(

Sankharakkandha: Reeling in the Fragments of this World

), 2012

Kibou no kyanpu fukushima kizzu kaki rinkangakkou

(

Hope Camp: Fukushima Kid's Summer Outdoor School

), 2011

Hiroshima, nagasaki, fukushima genshiryoku wo ukeireta nihon

(

Hiroshima, Nagasaki, Fukushima: The Japan That Accepted Nuclear Energy

), 2011

Kurenzu no mahou - hahatachi ga musume ni tsutaetekita hiden no koufukusho

(

Cleansing Magic: The Secret Book of Happiness

), 2009

Yorube naki jidai no kibou hito ha shinunoni naze ikirunoka

(

Hope in an Era with Nowhere to Go: If One is to Die Eventually, Why Continue Living

), 2006

Kamisama ha imasuka? taguchi randi no jinsei soudan

(

Does God Exist? Life Advice With Randi Taguchi

), 2002

Kamisama ha imasuka? taguchi randi no jinsei soudan

(

Does God Exist? Life Advice With Randi Taguchi

), 2005

[Bunko]

Mou shouhisura kairaku janai kanojo he

(

To the Girl Who No Longer Derives Pleasure From Consumption

), 1999

Mou shouhisura kairaku janai kanojo he

(

To the Girl Who No Longer Derives Pleasure From Consumption

), 2002

[Bunko]

Iyashi no mori hikari no ame furu shima Yakushima

(

Forest of Solace, Yakushima: Where the Light Rains Down

), 1997

Ikiru imi wo oshietekudasai-inochi wo meguru taiwa

(

Teach Me the Meaning of Living: A Discussion on Life

), 2008

Multi-Author Title

Ikitetemo iikashira? se to shi wo meguru taiwa

(

Is it Okay to Live? A Discussion About Life and Death

), 2008

Multi-Author Title
The titles above are a selection of Randy Taguchi's works. A full list of her publications can be downloaded
here
as a PDF file.
Prize-winning
Prize nominee
Adapted for Film/TV
In Japan there are two major book formats tanko-bon (Tanko) and bunko-bon (Bunko). See Factbook for explanation. The smaller images above are of the Bunko Editions, small-format paperbacks.
Do you write with a specific reader in mind or do you write for yourself?
I don't write with a specific reader in mind, but I also don't write just for myself. That being said, I am the first reader.


What is the most interesting question that you have been asked by one of your readers?
"Is the protagonist of this novel, 'me,' by chance?" I was surprised when I was asked this by many readers after the release of my first novel. Of course I replied to them saying, "This is merely a work of fiction. I don't know you."
Do you ever look at comments on websites made by your Readers? And if so, is there any particular ones you recall?
"You ran away." That is a comment I received with regards to my novel, Zone ni te (In the Zone), about the exclusion zone setup around the Fukushima Daiichi Nuclear Plant. I guess they said that because I didn't tackle the issue of the nuclear disaster head-on, but I don't think tackling things head-on is what novels are for. I receive plenty of great comments, but for some reason it's always the ones that irritate me that I remember.
How would you describe Outlet to someone who has not read any of your novels?
A novel of mine that I feel represents my works is Konsento (Outlet). It's a difficult novel to explain but its one that drives you crazy.
Which of your books would you recommend reading first?
Doriimu Taimu (Dream Time). It's an allegorical short story in which reality and fiction merge together.


Have any of your books or works been adapted for TV or Film?
Both Outlet and Antenna have been adapted for film. Antenna was even shown at the Venice Film Festival.

Do you have any favourite book covers?
I really like the cover for Outlet. I picked out the photo myself.


How do you come up with the titles for your works? Does the title or the narrative come first?
The title comes first, and the contents later. I generally get inspired by the title and use that to create an image for my work.
How long did it take for you to get your debut title published?
One year.
How much of what you write about in your novels is based on personal experience and real situations?
Almost all of what I write about is drawn from my own personal experience, including my dreams. I dream a lot – vivid and realistic dreams. I keep a dream journal and use it as a source when I write.
Where do you look for inspiration and how do you come up with plot ideas?
I get the urge to write from many different places and at varying times. For example, at dawn while in bed; or when I'm in a really good mood; or when an interesting idea pops into my head; or even whenever I gaze out on a memorable scenic view.


Why do you write?
I'm not sure… There are times that I want to quit, but before I know it, I'm writing again. I often look at the job listings in the newspapers, but again, I'm writing before I know it. Where does this urge come from?
What is your typical approach to writing?
It has changed over the years. My stamina and endurance has declined since my debut 27 years ago. It's gotten to a point to where I start to lose focus around 5:00 PM. Most of my writing is done in the early morning (5:00-7:00 AM). Around noon I get involved with various activities associated with being a writer – presentations, symposia, lectures, etc. I do what I can to avoid staying up late at night.
How long does it take you to write a novel or a short story?
I'm not really sure. A 30-page short story may take about 3 months. When I made my debut, I was writing full-length novels in about 3-months. I made my debut around the time I was 40 so that schedule was probably due to having a lot of accumulated ideas. Right now I have a few themes I have been thinking about for more than 10 years that still haven't come to fruition or end up as books.
When you are working on multiple pieces how do you avoid getting confused and stay efficient and creative?
Much like how you may have multiple eggs heating up at one time, I may have multiple ideas brewing, but I don't write multiple pieces at the same time, I can't. When I write, I focus on one piece at a time.


Do you have a favourite Japanese phrase, idiom or expression?
I really like onomatopoeia such as kirakira (sparkling), pikapika (shiny), wakuwaku (excited), soyosoyo (breezy) and sarasara (flowing).


Where do you write? How do you make yourself comfortable when you write and how long is a typical writing session?
I do my writing at a seaside apartment that's about a 15-minute walk from my home. But I've come to do more drawing or reading there. Recently, I've found myself writing in my room at home first thing in the morning. I usually spend about 2 to 3 hours per session.
How would you describe your style of writing?
Like a grumbling complaining woman.


Have you ever studied or taken a course in creative writing?
I haven't.


Do you prefer writing novels or short stories?
Short stories.


What stops you from being able to write?
Hunger and fatigue.
Do you still enjoy reading? And how often do you find time to read?
I read for about 1 hour before I go to bed.


Which author and book have influenced you the most?
An author that has influenced me the most… If I have to say it is probably Osamu Tezuka. While he isn't a novelist, I believe I have read all of his works. I especially liked Phoenix.


Who is your favourite fictional hero? And what do you like about them?
I really liked Anthony Hopkins' character in The Silence of the Lambs (1991), Dr. Hannibal Lecter. I was taken aback at how cool, calm and collected he was as a person despite being a villain and a madman. I was also fascinated by the fact that he wore Santa Maria Novella cologne in the film.


When you were a child did you have a favourite book?
Osamu Tezuka's short story Man in the Crater from the collection The Crater. It's a story about an astronaut left on the moon, as he watches the Earth become engulfed in nuclear war. It somehow reminded me of the lyricism of Ray Bradbury, an author I was enthralled with in junior high school. I am especially fond of his novel, The Martian Chronicles.


If you ran your own book club or belonged to a reading group what books would it be reading right now?
Carl G. Jung's Man and His Symbols.


Do you have a favourite website?
No.
Why do you think short format writing from Haiku to novella is common in Japan?
Because Japan is a miniature garden culture. There is a desire to condense the world into small things.
Why do you think international interest is growing in Japan?
I don't really think that international interest is growing, but I do think that the economic growth that Japan showed after being defeated in WWII is amazing. Two atomic bombs were dropped on us, and even our capital, Tokyo, received air raids, but we still managed to rebuild. Japan is a strange country.
In many different fields including sports such as baseball, and football (soccer), technology and academic research, Japanese people are building international reputations. What do you think Japanese authors can learn from this?
Nothing, unfortunately…


Who do you think is the most interesting historical Japanese figure and the most interesting contemporary one?
The Showa Emperor (Hirohito), Hideki Tojo, and the Imperial Japanese Army. I think Japan was crazy during WWII. I wonder how a country could become that crazy. I'm especially interested in the manned suicide-torpedoes that were used as a last ditch effort in the war.


Is the Japanese literary scene very close-knit and difficult to become part of?
I don't really think so. Speaking for myself, I don't come from a literary background. I made my writing debut on the Internet. I feel that Japan's literary scene is very tolerant.
What are your favourite films and why?
Lawrence of Arabia (1962), One Flew Over the Cuckoo's Nest (1975), Dogville (2003); I like all of Lars von Trier's works. I think I am interested in people that are unstable or crazy. I don't really want that to be the case, but looking at how I've answered these types of questions up until now, that must be the case.
Have you ever been in a film and if not would you be interested in being in one?
I haven't been in a film, but I would like to play an insane person if I had the opportunity.


What is your favourite type of music?
Brian Eno. His environmental music is often used as background music. I also like vocals in music. The human voice calms me and provides me with relief.
Do you like karaoke and, if so, which song do you sing most frequently?
I don't go to karaoke much anymore, but when I do I make sure to sing the song "Diamond" by the Japanese group Princess Princess.
Do you like Anime and Manga?
For anime I like Studio Ghibli's Nausicaä of the Valley of the Wind (1984). I also like the manga it's based on.


If you could chose to be a character in a book or film, who would it be?
I would like be Nina from Anton Chekhov's The Seagull (1896).
Do you have a favourite or special place you like to visit? What is your favourite thing to do on a day-off or on holiday?
Mt. Hayachine in Iwate Prefecture.


Who do you think is the most interesting historical international figure and the most interesting contemporary one?
Buddha and Christ.


If you could choose anyone in the world (alive or dead) to discuss writing, creativity and storytelling with, who would you select?
Carl Gustav Jung.


Are you a member of any clubs, organisations or associations?
The Dialogue Research Society (dialogue is something that I am exploring), Jomon Friends' Society (recreating festivals from the Jomon Period at Jomon historical ruins), Kawachimura Village Exchange Council (We hold discussions regarding how we should live with or without nuclear energy), Colored Pencil Society (families and sufferers of developmental disorders), and the Buddhist Reading Society (a society for reading Buddhist literature) are all groups I'm associated with.


Which Olympic sport, do you, like best?
Women's Volleyball.
Is there one person who has had a huge influence on you?
Carl Gustav Jung.


What would be the hardest thing for you to give up in life?
My love for my children.


What has been your happiest moment in your life so far?
When my unrequited love became mutual love.


How do you cope and manage stress?
Stress is something that is always there. So I don't try to get rid of it. Total lack of stress is actually more stressful.


Please tell us three good to know facts about you that aren't widely known?
I'm a mother, a wife, and a woman.


What is the one thing you always carry with you or in your bag?
Chocolate.


What is the minimum amount of cash you like to have in your wallet when you go out?
About 50,000 yen ($450).
2001 – Fujinkoron Literary Prize for I'd Like to Live Without Getting Irritated If Possible ( できればムカつかずに生きたい/Dekireba mukatsukazuni ikitai )
"Indeed, stateside pop fiction magnates could take a lesson or five from writers like Randy Taguchi," Bookslut.

"Like a modern, Japanese version of Joyce's Dubliners, each story introduces a protagonist on the verge of a personal epiphany. The emotions are refreshingly raw and honest, without the airiness that often turns me against such introspective characters," Reader Comment on Goodreads.com about Fujisan. 

"Riveting book on the lives of dysfunctional Japanese living under the shadow of the great mount Fuji. I was totally moved by the lucid writing style of Randy Taguchi, who was both bold and sensitive to human emotions," Reader Comment on Goodreads.com about Fujisan.